I have just returned from Porto in Portugal, where I attended the III International Conference on Media and Communication: "Media and Journalism in an evolving ecosystem". For me personally, this was a very special conference from the beginning as it was the first time I was to present a paper at an international conference (though I have done it before on research seminars, etc.). The title of my paper was "News Websites' Real-Time Coverage of Emergent Crisis: a Scandinavian study", the presentation went well, and I will write more about the study later as it will be part of my PhD dissertation.
Let me turn to the conference and jump straight to the conclusion: this was a very good conference, one of the best I've been to. It was well-organized, all the papers were of a high quality, and the social events in between the academic parts were spectacular.
First, the organization. Even though the organizers could consider making the final program available a little earlier for the fourth iteration of the International Conference on Media and Communication, everything in Porto worked smoothly. They even got the Portuguese secretary of state at the opening ceremony! Great job by Professor Rui Novais and his team.
Second, the academic content. Of the 16 paper presentations, there was not one presentation that did not give me something to think about, be inspired by, or use in my own research. It would be too much to go through all the interesting points here, so I'll just remark that I've got quite a number of new ideas to pursue in my future research, and that I've met a lot of intelligent and interesting scholars to collaborate with.
The conference had four keynote speakers: Dan Hallin gave a rich and inspiring account of how journalism is moving from its modernism into post-modernism with a move towards de-professionalization and opinionated, entertainment-oriented content (I must, however, admit that this talk reminded me very much of his keynote in Bergen last November); Mark Deuze presented his view on journalistic work in a society where media constitute an integral part of all social activity, arguing that journalists need to "brand" themselves through e.g. social media (that this keynote was presented at a video conference just added some kind of meta layer to his very talk); Elizabeth Grabe provided an inspirational approach to analyzing image bites in political coverage, providing a methodological framework for rigorously analyzing images quantitatively; and Robert Entman convincingly showed how scandal journalism works in relation to the American presidency and argued that media need to calibrate their journalistic coverage according to the seriousness of the political misconduct.
Third, the organizers had also gone to great length to make this a conference to remember for the social events. Chris Paterson from Leeds University said that in Britain, a lunch break would usually be 20 minutes long and have the worst food in town, and in Denmark it's quite the same (even though we usually stretch the break to be 40 minutes); but in Porto, the lunch breaks were two hours of dining at great restaurants (one of them under the Portuguese sun in the restaurant's garden). On the second day of the conference, the lavish lunch was even followed by a guided tour around town and a boat ride on the river Duoro. This was a great success, and everybody enjoyed that the organizers had also scheduled activities outside of the conference rooms. I think this photo, which was taken by Tiago Oliveira right after the boat ride, epitomizes the overall feeling at the conference: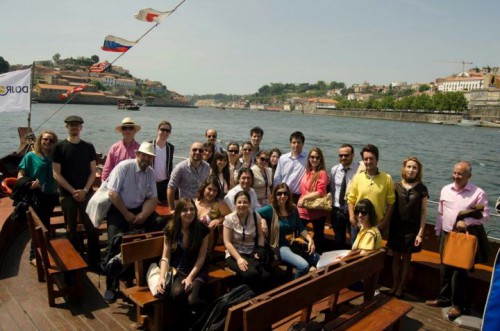 Life can be sweet, even when you're conferencing.