On occasion of today's edition of metroXpress, which was edited by the Danish crown prince, I've taken a look at the trend among especially free dailies to use celebrities as guest editors.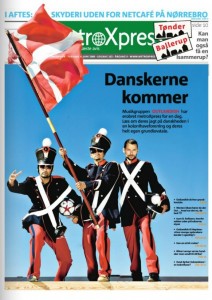 The trend started earlier abroad but as far as I can tell, the first instance of it in Denmark was when then leader of the then largest opposition party and current Prime Minister Helle Thorning-Schmidt edited Nyhedsavisen, which is now closed, on May 1, 2007. Later, then party leader Naser Khader and scientist Bjørn Lomborg were also in charge of the content of this free daily (on respectively June 5, 2007, and May 21, 2008).
MetroXpress, the main Danish publication of Metro International, however, leads the pack when it comes to inviting celebrity guest editors: here, radio host duo De Sorte Spejdere (April 22, 2008), pop group Outlandish (their front page is the illustration to this blog post; June 4, 2009), judges of television show Talent 09 (September 11, 2009), comedians from television sketch show Live fra Bremen (March 4, 2010), rock group Volbeat (music section only; May 23, 2011), and rapper L.O.C. (music section only; November 7, 2011) have acted as editors-in-chief for one day, and global guest editors-in-chief James Blunt (November 17, 2008), Lady Gaga (may 17, 2011), and Karl Lagerfeld (February 7, 2012) have also indirectly been in charge of the Danish free dailies.
The question remains, however, who benefits from this widespread use of guest editors.
As I see it, the news organizations are first in line to reap the harvest from this arrangement. They get a lot of mainly positive publicity, and the readership is likely to spike (when Bono guest edited UK broadsheet the Independent in 2006, for example, it reportedly sold 70.000 extra copies). Next, the celebrity guest editors get enormous exposure – also to segments of the population, they aren't usually in contact with (which is fortunate as the guest editing often coincide with album releases or other cultural events). This way, both media and celebrities benefit, and from their point of view the whole guest editor arrangement makes economically sense.
But how about the public? A positive effect is that guest editors can sometimes make possible or highlight specific stories because of their personal positions and networks. If Helle Thorning-Schmidt, the leader of the Danish Social Democrats, had not been in the editorial chair on the International Workers' Day 2007, Nyhedsavisen's readers might not have been able to read an exclusive interview with the leading Swedish social democrat Mona Sahlin. And in her 2011 Metro edition, Lady Gaga focused intensely on the rights of homosexuals, drawing attention to a subject matter that seems to be neglected in a lot of countries.
Two negative consequences, however, are that the quality of the news might not exactly benefit from having a celebrity rather than a news professional in the driver's seat and that the selection of news can be somewhat more eclectic than usually. Critically inclined persons would say that the audiences get inferior news while the media and entertainment industry get the advantages. The way I see it, however, is that when celebrities take over, the news is not only about udating the public (though it often is when you've turned over the first approximately 15 pages and reached the point where it's just business as usual). On the contrary, rather than being information about current event, the guest edited newspaper constitute an experience in itself for the reader and should be understood that way. It's an intellectual experiment come to live: what does the world look like through the eyes of this or that celebrity?
In his seminal article "What "Missing the Newspaper" Means" from 1949, Bernard Berelson pointed out that newspaper reading "has respite value" (p. 119). When guest editors putting together free dailies, creating an experience for the readers, I think this is still the case.
Update October 5, 2012: Yesterday, Sir Richard Branson was Global Guest Editor-In-Chief of Metro. Here are links to the Danish and American versions of "his" newspaper.