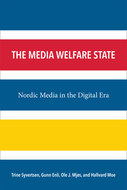 For the European Journal of Communication, I have recently reviewed a new book, "The Media Welfare State: Nordic Media in the Digital Era" by Trine Syvertsen, Gunn Enli, Ole J. Mjøs, and Hallvard Moe.
The book is about the important role of the (news) media in the development and maintenance of the Nordic countries' welfare states. The central contribution of the book is the introduction of the very concept of the "media welfare state", which captures many of the underlying assumptions that have existed in Nordic media policy as well as research over the last many years. Also, the book identifies four pillars that the "media welfare state" rests upon (p. 17, emphasis in original):
1: An organization of vital communication services that underscores their character as public goods, with extensive cross-subsidies and obligations toward universality.

2: A range of measures used to institutionalize freedom from editorial interference and self-governance in day-to-day operations.

3: A cultural policy that extends to the media in the form of content obligations and support schemes that aim to secure diversity and quality.

4: A preference for consensual solutions that are durable and involve cooperation between main stakeholders: the state, media and communication industries and the public.
I think the book is an important and highly useful one, and the review is, accordingly, positive. People who have an interest in the media system of the Nordic countries but want to go beyond Hallin & Mancini's idea of the "democratic corporatist model" should read it, and so should everyone else who wants know what goes on in the Danish, Finnish, Icelandic, Norwegian, and Swedish media.
Here is the conclusion of my review, which is published in the latest issue of European Journal of Communication:
The Media Welfare State offers an interesting and convincing theoretical framework for understanding the particularities of the media system of the Nordic countries. The book will likely become a standard reference for researchers and students who work with media in this region, and that will be well-deserved. It is highly relevant and comes at a time where the relationship between public and commercial media is in flux, the scholarship is sound, and the very concept of the media welfare state as well as the identification of the four pillars can prove most useful as analytical categories in future research. While it lacks the internationally comparative scope that, for example, Hallin and Mancini's neo-classic book has, it is all the more thorough in its analysis of one particular type of media system, and it constitute a valuable contribution to the existing literature on media systems.