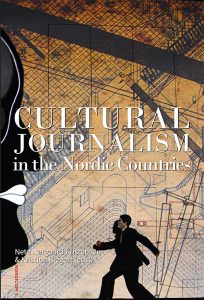 Nordicom has just published the book Cultural Journalism in the Nordic Countries, which is edited by Nete Nørgaard Kristensen and Kristina Riegert. A part of this book is a chapter that I have co-authored with Nete Nørgaard Kristensen and Unni From about the history and research of cultural journalism in Denmark over the last 120 years.
Here's the abstract:
Even though it is often overlooked in scholarly and public discussions of the proceedings of the news media, cultural journalism constitutes an important dimension of journalism among media workers as well as audiences. Providing a broad introduction to cultural journalism in Denmark, this chapter outlines the most important historical developments of the eld over the last 120 years and identi es central transformations in recent years. It builds upon and reviews the existing body of Danish research in this specialised eld and points to new routes for future research. On this basis, the chapter argues that the transfor- mations of cultural journalism relate to what is considered within the boundaries of culture and the cultural public sphere, by whom and where cultural journalism is conducted and published, and which professional logics are at play in cultural journalism. For when it comes to cultural journalism, a tension exists between the traditional 'watchdog' understanding of journalism in general and the speci city of cultural journalism, which is characterized by a more experience-based or 'so ' orientation; the chapter addresses this tension through an analysis of recent discussions of cultural journalism's place in the news media.
The book contains similar chapters about Finland, Norway, and Sweden, a number of case-study chapters (about the role of public service, the editorial responses to the Charlie Hebdo attack, etc.), and a chapter where Martin Eide revisits his idea of "service journalism". It's published open access (i.e., the digital version is free).