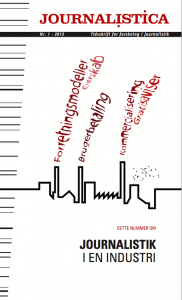 In Danish newsrooms, a saying goes that "we don't produce a newspaper in order to make money. We make money, so that we can produce a newspaper." The idea is to signal how publicist considerations are more important than commercial ones in a news organization, and how selling news is only a means to undertake news production.
In recent years, we have, however, witnessed a change in that perception. Newsrooms as well as journalism research have increasingly been oriented towards the economic framework of news production. It's a shift in focus which is caused, to a large extent, by the economic crisis of the news industry – and it is also the subject of a recently published special issue of academic, peer-reviewed journal Journalistica, which I have edited. The special issue corresponds with my current research into the digital business models of the press and also ties in with a seminar I arranged back in 2012.
The headline of the special issue is "Journalism in an industry", and the theme section consists of one introduction and five research articles:
Aske Kammer: Introduktion: Journalistik i en industri [Journalism in an industry; in Danish]
Jonas Ohlsson: De svenska tidningsstiftelserna: Partipressens sista bastion? [Swedish newspaper foundations – the last stand of the party press?; in Swedish]
Astrid Marie Holand: Et delt mediemarked: Prosesser som fremmer små aviser [A divided media market; in Norwegian]
Jens Barland: Innovasjon av inntekter: Journalistikk som bygger kunderelasjoner [Innovation of revenues; in Norwegian]
Ingela Wadbring: Journalists care about commercialization
In addition to the theme section, the issue also contains a number of articles (mostly in Danish). The journal is published open access, so all articles can be read free of charge. Enjoy.
Update January 11, 2014: Some of the research articles have resonated with people "out there". Piet Bakker's article received a very nice mentioning on the Nieman Journalism Lab website, while Jannie Møller Hartley's article on hierarchies in news organizations (article not in the theme section) was discussed on the dSeneste blog (Danish).