This week, a superstar toured the Danish media organizations: Jimmy Maymann, the CEO of the Huffington Post. I had the privilege of attending his talk at the Centre for Journalism at the University of Southern Denmark (where I work) and of spending nearly one hour in an exclusive conversation with him and Gerd May and Filip Wallberg from Fynske Medier (an organization I'm currently researching).
Maymann, who is born and raised in Denmark, has a convincing case for what news organizations should do in order to make it in the digital age. While most of the news industry struggles (some even for survival), the Huffington Post thrives. The company currently has 10 national editions outside of the US, has more than 100 million unique visitors per a month, and is making money. In 2012, the Huffington Post was the first online-only medium to win a Pulitzer Prize.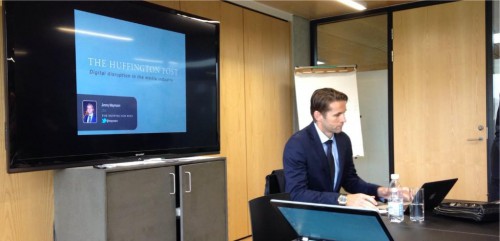 From my point of view, there are a couple of reasons why Huffington Post performs extremely well.
They use data – a lot. It's not that they only produce the journalism the readers want, such as slideshows of puppies and celebrities in awkward situations, but the presentation and the timing of the content is highly informed by user metrics. All journalists have dashboards to follow how their stories perform and are expected to use that information. Headlines are tweaked through A/B testing (or actually rather A/B/C/D/E/… testing).
They understand digital media. And have (so far successfully) thrown a large part of their chips into the baskets of social media, video, and mobile, and they acknowledge the importance of search-engine optimization even of the micro-level of the individual journalist's everyday work.
They have momentum. They are expanding internationally (and enter the Indian market later this month). The Huffington Post is one of the places to be in the media business right now, so they are able to attract the best journalists whose mindset match the organization's.
They get a lot of high-quality content for free. According to Maymann, the Huffington Post currently have around 80,000 blogs where, for example, experts and politicians contribute with content. That's a very good base for generating traffic.
They "fail fast". In its organizational mindset, the Huffington Post is intent on testing things – and that means that sometimes, things don't work as well as expected. What the Huffington Post does right here is to accept such failure quickly, adapt to it, and move forward with that lesson learnt in the organization.
During the first two days of his visit in Denmark, Maymann had (recounting from my memory) at least six or seven professional engagements where he would talk about the success of the Huffington Post. In one sense, he's an evangelist in a media business under pressure. 'Evangelist' comes from the Latin word 'euangelion', which means 'good news', and so an evangelist is, in the original meaning of the word, a bringer of good news.
If anything, Jimmy Maymann is considered by the Danish media a bringer of good news. He represents the hope that the current demise of media organizations can be turned around and that they can succeed. This perception of him – combined with the general tendency of Danes being interested in other Danes who have made it big abroad – means that Danish media have had a lot of interviews with Maymann on the news business, career, and entrepreneurship.
Ekstra Bladet uden for citat – a recent documentary about Danish tabloid Ekstra Bladet – illustrates just how much influence Maymann (direct or indirect, willingly or not) has on the Danish media business.
Like all other print newspapers, Ekstra Bladet does not find itself in a good situation these years, and it's struggeling to find out what to do. However, the documentary shows, on the basis of more or less only a one-hour meeting with Maymann (where he lays out the reasons for the success of the Huffington Post), editor-in-chief Poul Madsen and a couple of colleagues in the newspaper's top management quickly decided that much of what Huffington Post does should also be the way forward for the newspaper. Video, mobile, and social media become central components in the new way of doing things. So strong is the belief in Maymann's approach – or the willingness to believe – that one inspirational meeting was enough.
This anecdote is not unique to Ekstra Bladet. More or less every Danish media organization wants a piece of the Huffington Post and Maymann, of learning what they do.
What Ekstra Bladet and other Danish legacy media must remember is, however, that they are not in a position to just copy-paste the Huffington Post's way of doing things. They operate in another market with a quite small language community, the employment and union structure and tradition in the Danish labor market is radically different, and – most importantly – they cannot just import the necessary mindset and culture from another organization.
There is no quick fix to the challenges currently facing the news industry, no matter how convincing the bringer of the good news is.
Disclaimer: I have not yet watched Ekstra Bladet uden for citat myself but have had this sequence retold by several people.